HOME > Bangladesh Plant

| | |
| --- | --- |
| Trade Name | LUNALITE CO., (BD.) LTD |
| Location | Plot No.4,5,Sector-4/A,Chittagong Exrort Processing Zone,South, Halishaher,Bangladesh. |
| Phone | 880-31-740953 |
| FAX | 880-31-740018 |
| Establish | May in 1989 |
| Capital | \ 100,000,000 (JPY) |
| Number of Employee | 230 |
Bangladesh Plant is subsidiary (100% investment) of LUNA LITE, and manufactures the products of LUNA LITE.

●Entrance

●Material Sec.

●Accounting Sec.

●Morning Assembly

●Wire Bonding process

●Wire Bonding process

●Die Bonding process

●Computer Learning

●Visual Inspection--1

●Visual Inspection--2

●Main Assembly

●Outline Visual Check

●Lighting Inspection (QC)

●Electrical Inspection

●Lighting Inspection

●Visual Inspection

●Visual Inspection

●Shipping Process

●Oven Chamber

●

Material Warehouse (Parts)

●

Training of security guard

●Employee going home

●Products samples

●Material Sec.
※Click for enlarge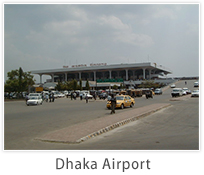 Major cities in Bangladesh is Dhaka (Capital city) and Chittagong (second city).   Major industry of this country is agriculture first also Textile and Apparel,  jute , frozen fish and seafood, leather , ceramics, pharmaceuticals, cement, ships, processed food.  Most of them are exported to USA and Europe.
Especially Garments the greatest exportation in the world.  Our plant is located in Chittagong that is port town of Bangladesh. It's 7km far from Chittagong Airport, 2.4km far from seaport.  The area of our plant is in  "(EPZ) industrial export processing zone" area where there are lots of oversea companies including from Japan.
As to the national flag, it has red circle in center and green color around which represents the sun rising over Bengal and fertile land..
Map of Bangladesh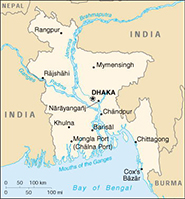 look at the Google map
| | |
| --- | --- |
| Area | 147,570 Km2 |
| Pop. | 152,500,000 (as of 2013) |
| Capital | Dhaka |
| Lang. | Bengali |
| Rel. | 1. Islam 2. Hinduism 3. Buddhism 4. Others |
| Currency | ৳ (Taka) |
| Time Diff. | - 3.0Hours (Difference from Japan) |